TEMIRZHOL KURYLYS-ATYRAU LLP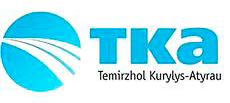 The Temirzhol kurylys – Atyrau Limited Liability Partnership is located on the territory of the Republic of Kazakhstan, Atyrau region, in the city of Atyrau and was established under the Deed of Incorporation and Charter registered by the Department of Justice of Atyrau. The organizational and legal form is Limited Liability Partnership. The company has an independent balance sheet, bank accounts. It concludes contracts and is registered as a taxpayer. The TKA staff is 570 people. All personnel are the residents of Kazakhstan.
construction of roads and railways;
construction of bridges;
construction of buildings and structures;
alarm device for centralization and blocking during the construction of railways;
communication and power supply on the railway;
landscaping (asphalting the territory, laying paving stones, landscaping);
earth and concrete work;
loading and unloading and transport services;
HVAC maintenance;
laboratory services (testing and research of construction materials);
piping;
manufacture of asphalt concrete mixture and bitumen emulsion;
crushed stone of various fractions.
Resources, material and technical facilities: offices in Atyrau with a total area of 1278 m2; indoor storages – 1500 m2; open areas – 3250 m2; railroad docks – 300 m2; premises for repair and maintenance of equipment – 1200 m2; asphalt concrete plant, crushing and sorting plant with access railway tracks; special equipment – 40 units; motor vehicles – 100 units; equipment and mechanisms – 42 units; plant for production of water-bitumen emulsion with a capacity of 2 m3/hour.
The company use the modern geodetic equipment such as GPS, Leika, Hilti at Karabatan; a construction laboratory located at Karabatan (accredited for testing inert materials, asphalt concrete mixture, concrete, cement, soil, etc.); an YESKENE earth pit; a point for the intake of industrial water from the main water pipeline -450 m3/day to use it in soil compaction and other technical needs; 140 units of vehicles and construction equipment; 42 units of equipment and mechanisms for general construction works i.e. concrete, road (strengthening the embankment slopes by hydroseeding grass), installation, welding, loading and unloading.
The TKA Company undertakes to comply with all requirements of the quality management system. The company understands the need to constantly improve the efficiency of the quality management system in accordance with international norms and standards of ISO 9001:2008.
Temirzhol kurylys – Atyrau LLP carries out its activities guided by the legislation of the Republic of Kazakhstan, the Charter and resolutions made in the prescribed manner within their competence.
In 2003, the following compliance was introduced and confirmed annually:
ISO 9001: 2008 Quality Management System;
ISO 14001: 2004 environmental management;
OHSAS 18001:2007 Occupational Health and Safety Management System.
All the Project Managers in the company have IPMA certificates.
Rental of premises, catering
Temirzhol kurylys Atyrau LLP has a large list of assets, the list of which includes the availability of office, residential and industrial premises provided for rent.
These premises are under round-the-clock security, equipped with indoor and outdoor video surveillance cameras, diesel generators to provide electricity and convenient Parking for employees 'and visitors' vehicles.
Certificates and letters of gratitude